ISF-3 Young / Nov. 19-20, 2019 / Hiroshima, Japan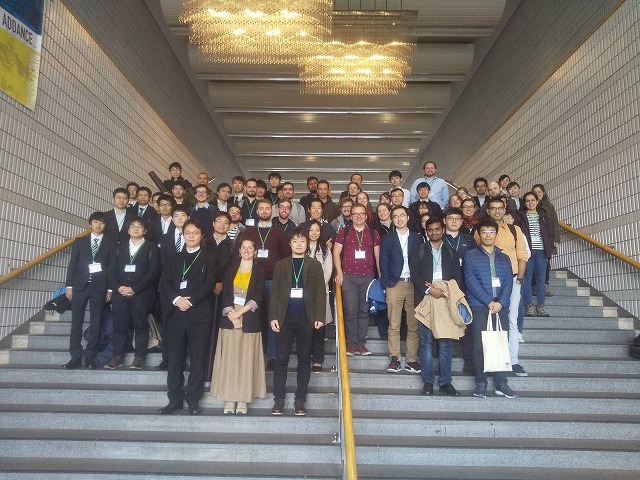 Thank you for your attendance.
DOWNLOAD (FULL SIZE 3.12M)
         ➡ Poster Presentation Awards for Students
We are pleased to invite you to the 3rd biannual YOUNG meeting, preceding the International Solar Fuels Conference (ISF-3).
This special meeting provides a forum for young scientists to share and discuss their research with each other in a more familiar atmosphere.
We accepted both poster and oral presentations from Students, Post-docs, and other Young scientists covering a wide variety of topics dealing with Solar Fuels in the same interdisciplinary spirit as the main ISF-3 conference. The oral presentations will be selected from submitted abstracts. The program will also feature four invited senior plenary speakers, lunch and dinner, and other activities, providing many opportunities for discussion and networking amongst each other.
Plenary speaker
Kazuhiko Maeda
/ Department of Chemistry, School of Science, Tokyo Institute of Technology, Japan
Long-Jiang Yu
/ Institute of Botany, Chinese Academy of Sciences, China
Sophia Haussener
/ Laboratory of Renewable Energy Science and Engineering (LRESE), Lausanne, Switzerland
Xiaohong Liu
/ Chinese Academy of Science, China
Organizing committee
Akinobu Nakada
/ Chuo University , Japan
Keisuke Kawakami
/ Osaka City University, Japan
Cristina Tapia
/ Université Grenoble Alpes, France
Hitoshi Tamiaki
/ Ritsumeikan University , Japan
Venue
JMS Aster Plaza
4-17 Kako-cho, Naka-ku, Hiroshima 730-0812, Japan
https://www.hiroshimacvb.jp/en/venues-accomodation/733.html
Lecture Sessions: Conference room,7F
Poster Sessions: Gallery, 1F
Program
Program (as of Oct. 2, 2019)

PDF 57KB
Poster list (as of Oct. 2, 2019)

PDF 75KB
Registration Fee
For ISF-3 Young, registration fee for all participants is:
Before September 20, 2019: 5,000 JPY Closed
September 21, 2019 and after: 10,000 JPY
Please pay regular registration fee on/after September 21
,
even if you registered by Sept. 20.
 Registration to ISF-3 Young includes:
Access to all ISF-3 Young meeting sessions
ISF-3 Young program and abstract book
Lunch, and mid-session refreshments
Registration/Abstract Submission
All participants planning to attend ISF-3 Young must register using the Online Registration System. Your successful registration and payment receipt will be automatically acknowledged via email. Students, post-docs, and other young scientists are welcome to submit an abstract to be considered for either an oral or poster presentation. Abstracts must be submitted using the online ISF-3 Abstract Submission form. Topics must be related to Solar Fuels, including but not limited to:
Artificial photosynthetic systems including water-oxidation, H2 production, and CO2 reduction
Molecular photocatalysts and semiconductor photocatalysts
Light-harvesting and photochemical charge separation>
Mechanisms of natural photosynthesis
Biofuels from photosynthesis and biomass energy
Photobioreactors
Photoelectrochemistry and photobiology
The organizing committee will review all submitted abstracts. Presenting authors will be notified via email of the committee decision within three weeks of the submission deadline.
Presentation Guidelines
Oral Presentations: Your presentation should be 15 minutes in length, with 4 additional minutes left for questions from the audience. Arrive at least 15 minutes prior to the scheduled start of your session in order to load your presentation onto your computers. Please bring presentation in ppt or pptx format on your own computer and a USB flash drive.
Poster Presentations: Prepare your poster following the guidelines below: Poster Size - Posters must not exceed the dimensions of A0 size (119 cm by 84 cm) Poster Mounting - Posters will be mounted to the boards using the provided binder clips. Poster boards will be numbered to indicate each poster location. Your poster number will be provided via email and will also be listed in the abstract book.
Award: Poster Presentation Award for Students